This pandemic teaches us one thing that life is unpredictable. 2020 spread the panic about pandemic & in 2021 the second wave makes it stronger. As we were preparing to face the third wave of covid & this time the chances of effecting to little once, it is very important for a mother like me to keep away the family from cough, cold & throat infections.
I brought these 4 very effective products from KOFOL, manufactured by Charak Pharma PVT. LTD.
1) Kofol Chewable Tablets
2) Kofol Immunity Tablets
3) Kofol Syrup Ayurvedic Cough Reliever
4) Kofol Gargle
Charak products are Leaders in Ayurveda for 74 years & 100% natural, they are passed through stringent quality checks & are exported to 35-countries. The best part is it's ayurvedic & sugar-free, so all persons can use it.
1) Kofol Chewable Tablets:- It's a small chewable tablet that helps in healing sore throat & seasonal cough. Ayurvedic herbs like Yashtimadhu, Shunthi, Pudina Sattva, and more are used to prepare this tablet, that's why it's very effective, sugar-free, pocket friendly & safe for kids & adults. These tablets are 100% ayurvedic active & formulated by expert doctors.
Dosage:- Take 1-2 tablets & let them dissolve. Repeat this 3-4 times.
2) Kofol Immunity Tablets:- It's a 100% Ayurvedic formula with powerful herbs like Giloy / Guduchi, Haldi, Triphala Guggul, Shunti, Manjishtha, Chitrak, Pippali, and Black pepper for effective immunity-boosting. Helps in strengthening the body's defense system against cold-cough and seasonal viral infections & promotes faster recovery from infections. Suitable for Children & Elders both.
Dosage:- 1-2 tablets per day ( Please consult a doctor once)
3) Kofol Syrup Ayurvedic Cough Reliever:- This Syrup contains potent herbs like Shunthi, Tulsi, Vasa, and more, which are anti-inflammatory in nature. It gives a cooling effect to effectively heal and soothe your throat and give relief from the pain caused by excessive coughing. The syrup helps to heal dry, mucosal, and normal cough.
Dosage:-
For kids:- 1 teaspoon (5ml) 3-4 times a day
For Adult :- 2 teaspoon (10ml) 3-4 times a day
( Please consult a doctor once)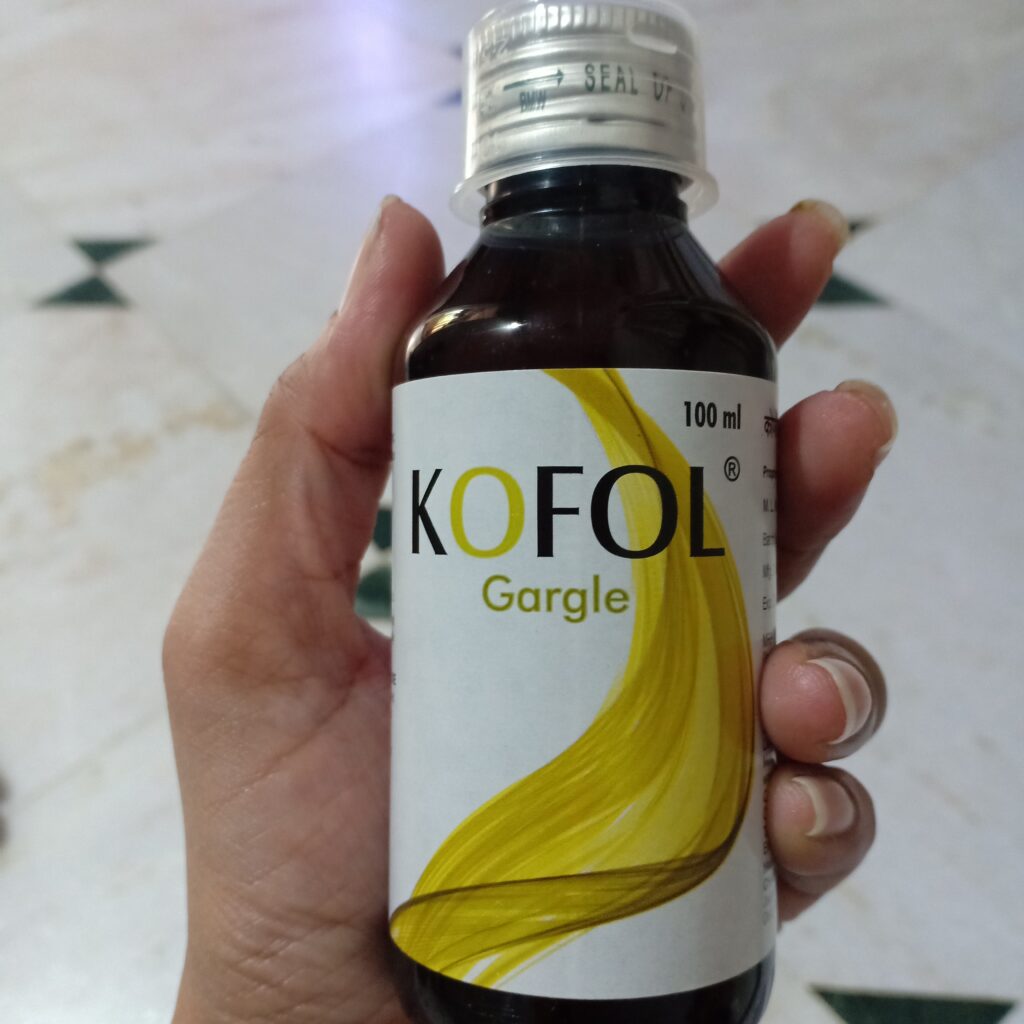 4) Kofol Gargle:- Sore throat is the first signal of getting throat infection, so start healing with Kofol Gargle, which combines powerful herbs like Yashtimadhu, Tulsi, Pudina, and more. It helps in getting fast relief from sore throat, provides cooling & smoothing effects, no bitter taste & a non-alcoholic product.
Dosage:-
Take 10-15ml & gargle for 30 min twice a day ( Day & Night).
If you ask me which is my favorite & most effective product then I will say all the products are really awesome. It's 100% Ayurvedic & prepared by expert Ayurvedic doctors.
Link's of above-mentioned product:-
Kofol Immunity –
https://www.charak.com/product/kofol-immunity-tablets/ https://www.vedistry.com/product/kofol-immunity-tablets/
Kofol Syrup –
https://www.charak.com/product/kofol-syrup/
https://www.vedistry.com/product/kofol-syrup/
Kofol Chewable –
https://www.charak.com/product/kofol-chewable-tablets/ https://www.vedistry.com/product/kofol-chewable-tablets/
Kofol Gargle –
https://www.charak.com/product/kofol-gargle/
https://www.vedistry.com/product/kofol-gargle/
https://www.charak.com/
https://www.vedistry.com/

Instagram Handles :-
@vedistryindia @charakpharma
Facebook :-
@vedistryindia @charakpharma