Deyga is a brand, who believes in natural shining, flawless beauty. That's the only reason they create 100% natural products. They aim to create the world's most pure, organic, and all-natural range of cosmetics, beauty products, and skincare. To give maximum skin benefits to the customer, Deyga cosmetics are formulated with high-performing antioxidants, naturally occurring vitamins, and essential oils. When I got a chance to try out their product, I put my hand on their Anti Aging Solutions combo. Before going to the product let's see "How aging affects us?"
The signs of age are like a nightmare for many women. The most visible signs of aging are wrinkles & fine lines, followed by sagging and uneven skin tone. These changes also create a lack of confidence in them & that's the reason women get ready to pay a high amount to reduce it. Research also says that a 30% reduction in wrinkles & fine lines; helped many women to bring back their lost confidence. But research also says that usage of chemical-based products given them a temporary solution, became their monthly procedure with bulk investment & side effects in the future.
Is there any natural way of reducing wrinkles & fine lines?
YES…..
1) Yoga: – Instead of trying a quick, expensive, time-consuming & chemical base way of face lifting, one should try yoga. Yoga has many easy exercises that can help you to tighten your skin & bring back the natural glow. Simple 8 Face Yoga Exercises can help you to achieve Younger and Firmer Looking Skin.
2) Balanced Diet: – Beautiful glowing skin also can be achieved with a healthy diet. When we add vibrant foods loaded with antioxidants, healthy fats, water, and essential nutrients in our daily diet, our body will show its appreciation through its largest organ: our skin. Red bell pepper, Papaya, Blueberries, Broccoli, Spinach, Nuts, Avocado, Sweet potatoes, Pomegranate seeds, etc are a rich source of antioxidants.
IF you are a buzzing bee like me & don't have proper time for daily yoga & a balanced diet, then you should try out the below product for a satisfying result.
3) Go natural with Deyga Anti-aging kit: – Deyga is a brand standing on six strong pillars to serve their customer a quality product. 1) These products are handcrafted 2) 100% natural, only undergo chemical changes due to biological processes 3) Usage of traditional recipe 4) Cruelty-free 5) Group effort to bring out best for their customer 6) Sustainable.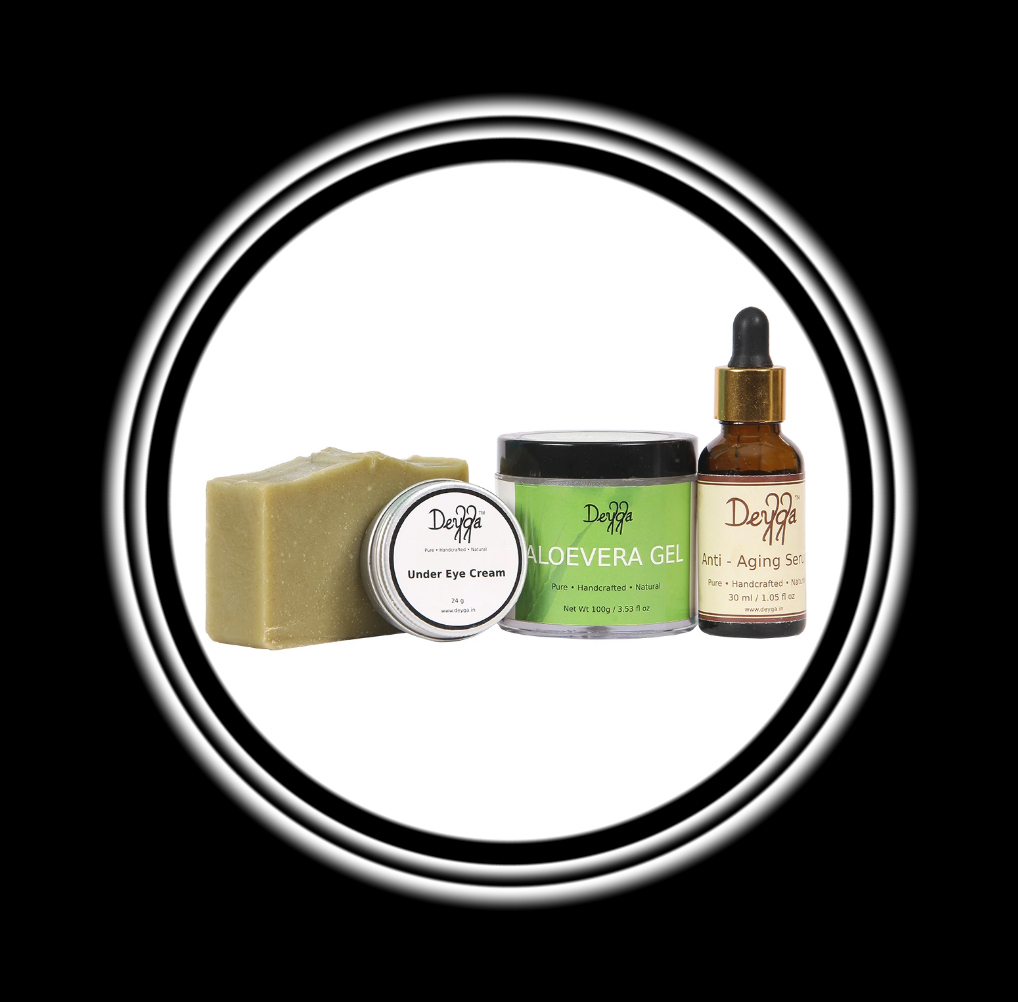 Deyga Anti-aging kit contains:-
Spinach Cucumber soap – This soap is prepared with organic ground spinach & cucumber, which is filled with a dense combination of vitamins, minerals, antioxidants, and anti-aging properties. Regular usage of this soap encourages cell regeneration, keeps your skin moisturized, protects skin from damage & also helps in repairing the damage that happened earlier.
Anti-aging serum – This serum is prepared using organic Hemp Seed Oil, Jojoba Oil, Kalonji Oil, Moringa Oil, Carrot Seed Oil & Rose Hip Oil, which is an ultimate treatment for enhancing skin's essential multi-defensive power against visible signs of aging, environmental factors, and daily stress. It works to repair the appearance of fine lines, wrinkles, the loss of firmness, dullness and helps to strengthen the skin's ability.
Under-eye cream – This eye cream is prepared with the goodness of kalonji oil, hemp seed oil, rosehip essential oil, almond oil & carrot seed oil, which nourishes the skin from deep within & keeps it looks young. Regular gentle massage with the cream helps de-stress and over time reduces pigmentation by improving blood circulation in the affected area.
Aloe Vera Gel – Aloe Vera Gel is best known for treating skin injuries, damage, acne & marks. It's the best natural moisturizer. Daily use of this gel makes your skin refresh & brings a natural glow immediately. It also makes skin soft & reduces the old damage by healing & smoothing it.
These four products have all the properties that help you look younger and feel more energetic. These products are suitable for all skin types. The best part is it natural, made in India & comes at a budget-friendly rate.
Website: – https://deyga.in/collections/combo/products/anti-ageing-kit